About Me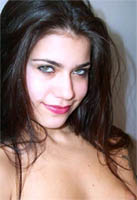 Age: 22
Height: 5'2"
Size: 34A-24-33
Favorite activity: anything outdoors, esp. hiking in the woods naked!!!!!!!
Favorite food: spicy food

I also love animals.

Hi! My name is Marianna. I come from the Middle East... try to guess where. I come hear a couple of years ago to find a better living. In my country I always have a hard time finding good work. Not very many exciting work for women. When I was little I always dream of being a superstar and have many people love me. My friends told me that in America it is the land of opportunity. Anything you wish for will come true. So I try to see if this is true. I hope you like my pictures and come back often to see me.

My favorite pictures are the ones outdoors. Nature is so beautiful, don't you agree?